New Orleans Holiday Gift Guide
Holiday shopping has never been easier in New Orleans. With various local shops open for both in-person browsing and online shopping, there's no excuse for not finding the perfect gift all while supporting small businesses. We've got gifts for the foodie, sports lover, music fan and child in your life, plus a little lagniappe. Browse our guide below and give the gift of New Orleans this holiday season.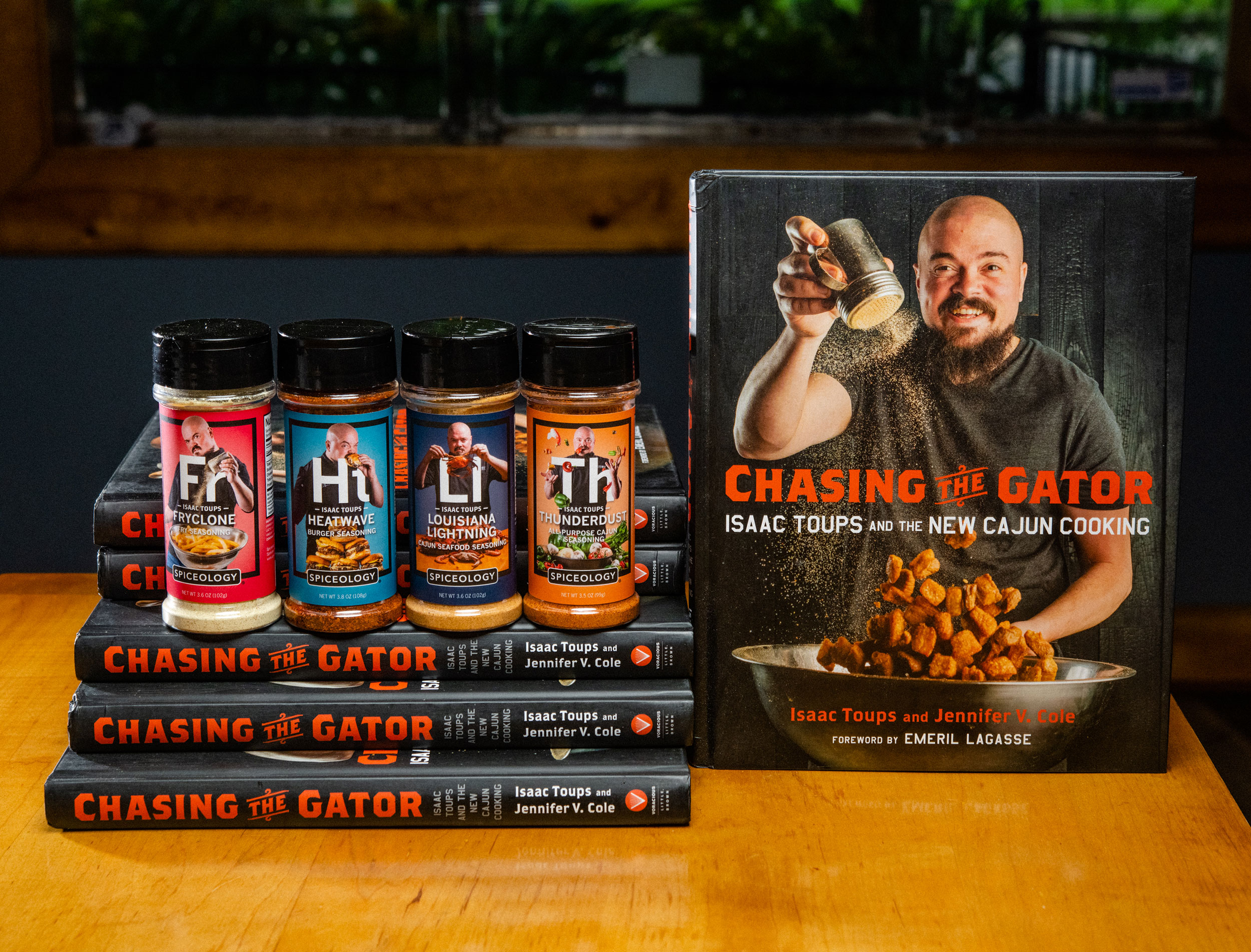 Toups Spiceology, Photo courtesy of Toups
For the Foodie
Bring on the flavor – Chef Isaac Toups is known for creating some of the best Cajun dishes in New Orleans. Choose from Fryclone, Louisiana Lightning, Heatwave or Thunderdust to up your cooking game.
Learn the secrets behind Chef Kelly Fields' delicious pastries with her debut cookbook, "The Good Book of Southern Baking." Recipes for pies, biscuits, cakes and cookies are just a few of what you'll find in this gem. This is just one of many great cookbooks from New Orleanians. Find more cookbooks by NOLA chefs here.
Not in New Orleans? Order the king cake mix from Gracious Bakery to bring a little Mardi Gras into your own home. The official Carnival season kicks off on January 6, but we won't blame you if you whip up your king cake before then (just don't tell anybody). Pick it up in store or order online from Home Malone.
Support the only Black-owned winery in New Orleans with a purchase from Ole' Orleans Wines. Shop the wines online and choose from rosé, cabernet sauvignon, merlot, Riesling and others made locally in Louisiana. A private tasting for two or a small group at the Oretha Castle Haley location would also make a great gift. 
Delight in a cocktail from this company which specializes in all natural, hand-crafted syrups and mixers for both the home and the commercial bar. Made with fresh produce and Louisiana sugarcane, you can't go wrong with ginger honey, mint and lemon verbena and other craft cocktail syrups in the collection. Cocktail & Sons is a New Orleans-based business run by two local bartenders.
The Sazerac House Coffee Mug is one you'll want to keep on display year-round. The sleek mug is great for coffee, hot cocoa or a discreet cocktail of your choice.
The perfect companion to the aforementioned coffee mug, French Truck brings the holiday spirit with hints of cherry, notes of caramel and an essence of chocolate for a warm, full-bodied blend.
Complete with eight pralines, eight cookies and a bag of flavored pecans, this gift basket from Loretta's Pralines is a sweet surprise for those craving a taste of NOLA.
Nu-Fusion is a brand new spice company launched by New Orleans native and recent culinary school graduate Reagan Williams. Nu-Fusion specializes in premium herbs, spice blends, and gourmet spices, with blends including Ocean Delight, Poultry Paradise and Spiced Chipotle. These spices will pack the flavor in next time you're in the kitchen.
For the Music Lover
Surprise the music lover in your life with a once in a lifetime gift from Preservation Hall. With proceeds benefitting the Hall and providing much-needed income for its 60+ musicians still fighting big losses due to COVID-19's impact on our local music scene, a $250 HALLiday Gram delivered by a Preservation Hall musician includes a two-song, porch side musical performance plus plenty of Preservation Hall merch. Purchasers will be able to schedule the delivery and musical visit to take place between December 18 and December 23.
The pandemic has been particularly tough on the musicians and culture bearers of New Orleans. Show support for your favorite artist, music venue or restaurant with the purchase of a limited-edition t-shirt.
For the Sports Fan
Designed and printed in New Orleans, this beanie will keep you warm and show your pride for the black & gold. Pair that with the Falcon Tears water bottle (also from Dirty Coast), and you're ready for game day.
Keep your drink cozy with this stylish accessory. Featuring a hand-stitched needlepoint Saints logo and handsome leather wrap around, you'll be drinking in style next time there's a game.
For the Kids
Educate the little ones in your life on all things New Orleans with Home Malone's Coloring the Crescent City. This 45-page coloring book features images of king cake, gumbo, New Orleans homes and more.
For the mini crawfish lovers in your life, this set couldn't be more perfect. Complete with crawfish, potatoes, corn and seasoning, a pot and strainer, plus a real wooden paddle, they'll be getting good practice in before next crawfish season.
The creation of local artist Brandan "Bmike" Odums, the phrase "I am my ancestors' wildest dreams" has become synonymous with his art, which is on display at Studio BE in the Bywater. Take a piece of art home with you through the purchase of a t-shirt, print or accessory made available in his online shop.
For those who miss New Orleans
Step inside the historic French Quarter through one of Megan Olsen's paper-crafted creations. Her art depicts architecture found throughout New Orleans and is a colorful and subtle addition to anyone's home.
This may read as a children's book, but it's great for anyone missing the sights, sounds and flavors of New Orleans. Featuring river boats, the Audubon Zoo and the French Quarter, all will be delighted as they explore the city's best attractions. Support local business and pick up a copy from Garden District Book Shop.
The Southern Food & Beverage Museum in New Orleans is all about the food and drink of the American South. Treat your loved one to a taste of New Orleans with a specially-curated holiday gift package. Options include the vintage holiday gift package with recipe books, martini glasses and an absinthe spoon, and the Southern gift package with hot sauce, a mug and cookbooks. Browse the SoFAB shop online for stocking stuffers, specialty food products and more. 
Surprise your loved ones with the gift everyone wants – a classic New Orleans meal straight from one of our beloved restaurants and vendors. Shop Goldbelly, which offers nationwide shipping, for turtle soup from Commander's Palace, muffulettas from Central Grocery and more delicious options fit for a holiday feast.
Stocking Stuffers and Lagniappe
You can't go wrong with a locally-made face mask from New Orleans. Available in a variety of designs, from simple to sequins, face masks are both a practical and fun stocking stuffer for this holiday season.
Can't be with your krewe this holiday season? Send a stocking stuffer in the form of a card this year. Made with love, these cards will brighten anyone's holiday season.
In New Orleans, we only know one kind of snow – a sno-ball, that is! Add this tasty summertime treat to your tree and be on the lookout for when the sno-ball stands reopen for the season next March.
Find even more local holiday shopping inspiration here.